Palm Oil Milling, Refining, Environment and Quality Seminar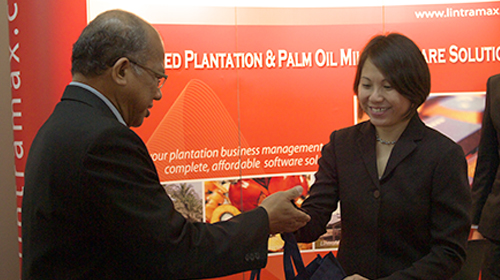 A Successful Showcase of LintraMax Palm Oil Mill Management Software Solution at POMREQ 2010
KUALA LUMPUR, 30 September 2010: The National Seminar on Palm Oil Milling, Refining, Environment and Quality (POMREQ) is a series of seminars organised specifically for the Malaysian palm oil industry with the aim of putting out new innovations and technologies, and exchanging exciting ideas and industry concerns.
LintraMax is proud to have participated in POMREQ 2010's exhibition showcasing the latest palm oil mill management systems at booth number 5. This event was a resounding success for both the organiser Malaysia Palm Oil Board (MPOB) and LintraMax.
LintraMax's booth was a beehive of activity with good responses for LintraMax's mill management solution. Many valued clients also visited LintraMax's booth with positive feedbacks and recommendations for their partners. LintraMax would like to thank these clients as well as future clients for their interest and time.
For more information on the full suite of LintraMax solutions, please visit the LintraMax Solutions page.