Case study: Quarto facilitates remote working for Polima Forest Bintulu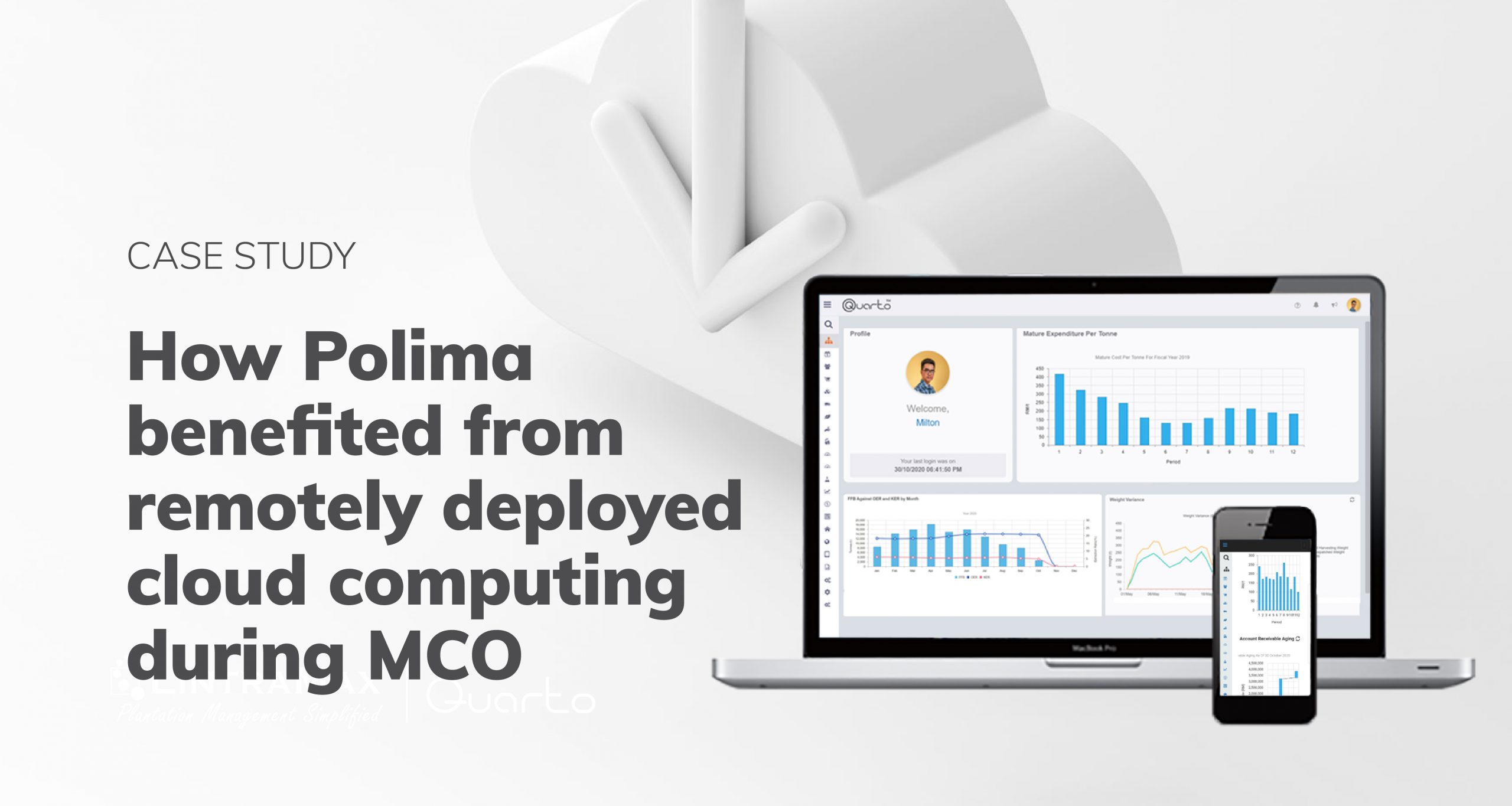 During the first Movement Control Order (MCO) in March 2020, essential industries such as palm oil faced unprecedented challenges.  
Because of travel restrictions, site visits were impossible. Consequently, IT teams were only able to provide limited support until lockdown was lifted. System updates or migrations were at best, difficult and delayed. At worst, they were outright impossible. With a fresh round of MCO happening now, concerns over renewed disruptions to estate operations are very real, as they are ill equipped for remote working. 
An upside of these challenges however, was in getting palm estates to adopt new technologies and workflows. Not just in circumventing challenges brought by the pandemic, but as long-term best practices to improve overall productivity. One such estate is Polima Forest Bintulu.
Overcoming
remote deployment
challenges
Polima Forest Bintulu were looking to migrate their previous management system to Quarto by LintraMax. With the MCO making interstate travel impossible, how will LintraMax deploy Quarto for Polima? More importantly, will a rollout delay impact Polima's productivity and workflow? 
With on-site support and deployment now an impossibility, the LintraMax team proposed a different approach: 100% remote deployment.  
Refining methodologies for remote working
With its clients primarily in Sabah and Sarawak, Indonesia and Papua New Guinea, the LintraMax team is already remotely working and supporting clients even before the MCO. 
To reduce errors and  miscommunication, the LintraMax team implemented the migration in four distinct stages (Plan > Configuration > Migration & Validation > Go Live). This ensures that data migration from Polima's prior system carried over smoothly to Quarto. 
Operational procedures were revised for remote working. For example, using video conferencing for requirements gathering and training, and using collaboration tools to track change and feature requests.  
Going live within 30 days
Within 30 days, the LintraMax team successfully migrated Polima Forest Bintulu's systems into Quarto. This was an unprecedented success for both parties.  
For Polima Forest Bintulu, Quarto's cloud-based architecture allowed their staff to work remotely and from home in accordance with MCO guidelines. On top of that, the switch to Quarto also eased hardware requirements. Now Polima's system users only needed Internet access and a web browser to work from their laptop or tablet. 
Digital agriculture benefits 
The benefits went beyond financial savings on hardware and software licenses, or reduced operating and maintenance costs. For example, Quarto facilitated direct data recording into devices in-field. This allowed Polima to do away with a number of manual processes. Last but not least, Quarto's cloud-based architecture means the user always logs onto the latest version, every time. No more maintenance downtimes that impacted productivity. 
For the LintraMax team, the Polima Forest Bintulu scenario was a resounding success. Where previous migration processes could take months, the Polima scenario was completed inside a month. This had become a new benchmark for the LintraMax team. An entirely remote deployment and support of Quarto is not only feasible, but optimal under the current MCO conditions to keep users safe.