Quarto Estate: Future-proof plantation technology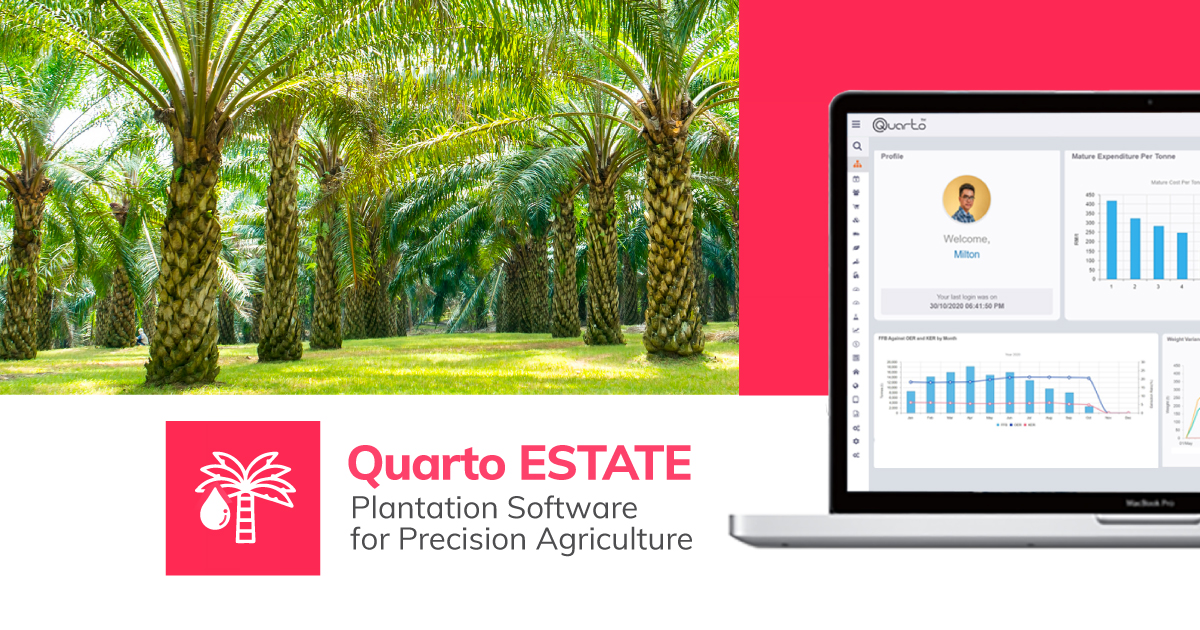 As oil palm plantations seek to improve yields, more are embracing future proof plantation technology in smart and digital farming. Management software like Quarto Estate by LintraMax now manages over 1 million hectares of plantations in Malaysia and abroad. 
Here's how Quarto Estate can transform agribusinesses: 
Track and manage key expenses
With fertilizer and labour being the main expenses for estates, Quarto Estate enables managers to keep track of fertilizer usage by estate blocks, as well as the workers assigned to each field duty. 
Harness data into insights
Quarto Estate adopts a data-driven approach, turning data from operations into custom reports and visual maps. Whether it's an overview of operations or specific details from a particular month and region, you're only a few clicks away from what you need. 
Automated checkroll calculations
Pay and checkroll calculations no longer take weeks of manually checking spreadsheets. Using data from field supervisors recorded into the Quarto Connect app, Quarto Estate easily performs wage calculations for thousands of workers, while accounting for various contract types, overtime, and piece rates. 
One Quarto for all your needs
Quarto integrates multiple software used for attendance taking, HR and checkroll, inventory and procurement, finance, accounts, sales and estate operations into one seamless, interconnected system. Therefore, month end payroll calculations automatically go into the finance module without requiring any data migration or user input.  
Minimise data input errors 
Safeguards and data checks help reduce invalid data entries that can otherwise creep into manual calculations and data recording and snowball into problems that prevent accounts closing. For example, piece-rates are predetermined in-system, and field supervisors only need to fill in work amount to automatically calculate worker entitlements.  
Enhanced operational traceability
Easily locate specific procurement and resource usage records to locate and reduce pilferage. Identify crop harvest by estate blocks and GPS coordinates, even after they have shipped to the mill. Digital worker records accessible from apps, combined with biometric scanning help prevent phantom workers. 
Support for new technologies
Quarto Estate facilitates new, future-proof technologies in its data-driven methodology and offers various extensions. Quarto Map supports drone and satellite mapping to provide a geospatial view of your operations. The Quarto Connect app allows field data recording from a smart device while offline to reduce paperwork. Meanwhile, the free Quarto View app lets you monitor your plantation's KPI and manage approvals from anywhere, anytime.  
Future-proofing your business
As a cloud-based platform, Quarto Estate Is low investment and cost while offering quick ROI. It is supported with continuous free updates that add new functionality and refine existing ones throughout your usage duration. You're always using the best and latest version of Quarto. 
A system for plantations, by plantation experts
Quarto Estate was designed by agriculture industry experts to tackle operational issues. It brings together best practices from 18 years of problem solving and optimising workflows so your business too can enjoy higher yields, lower costs and greater agility. 
No capital expenditure
As a cloud-based system that operates from a web browser, Quarto negates the need for costly hardware servers, software licenses, network setup as well as dedicated workstations and IT support teams.  
Work from home
Quarto's cloud-based infrastructure allows your employees to work from anywhere on a wide range of devices, while maintaining teamwork and increasing work satisfaction.   
Quick migration and deployment
Where custom software can spend over a year in development, Quarto can be customised, migrated and deployed 100% remotely in as quickly as a month, supported by virtual training and full IT support. 
Contact us now and let Quarto Estate be your launchpad into digital agriculture, and future-proof plantation technology.