Quarto reduces checkroll processing time by 50%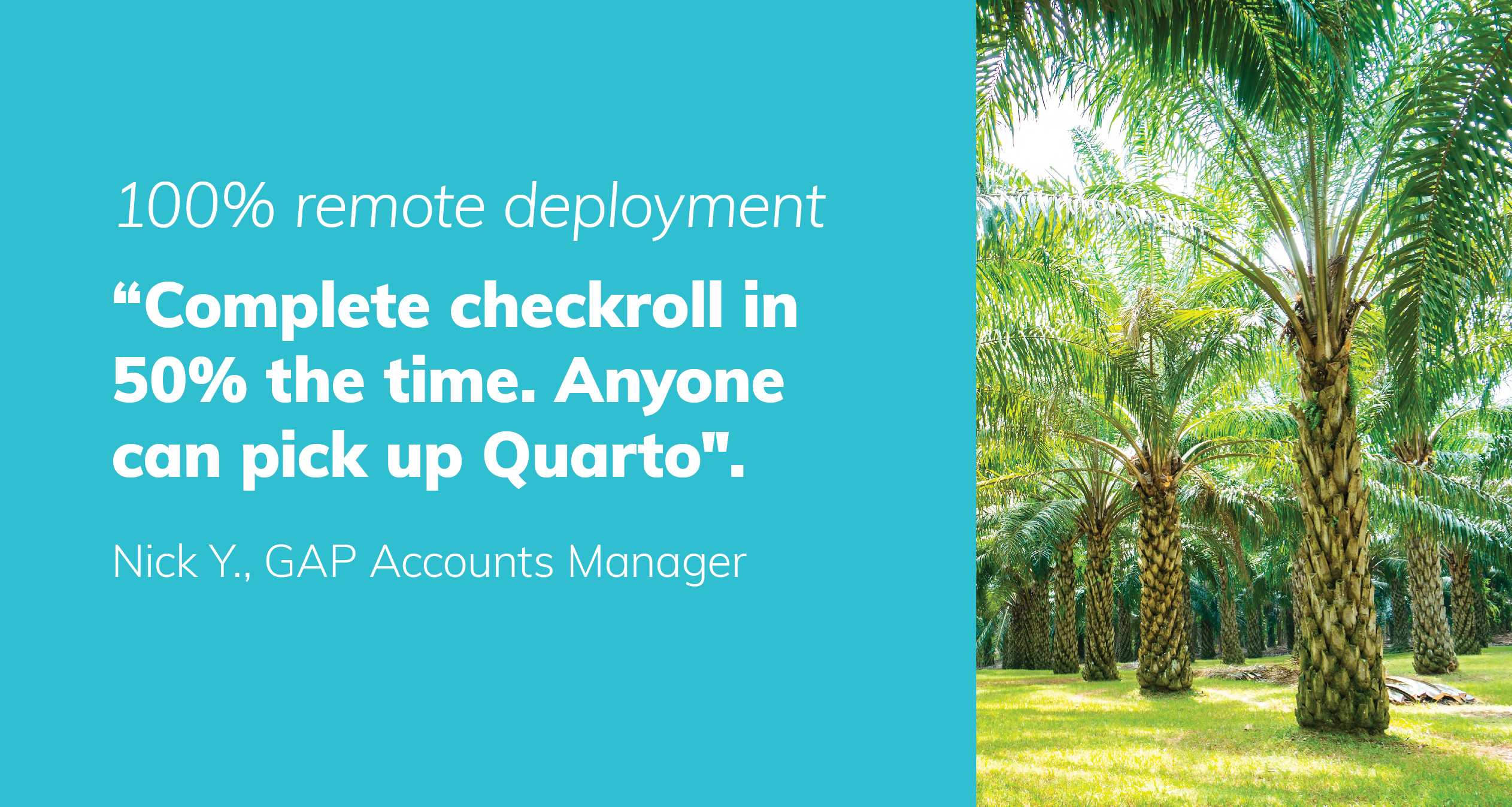 For us in LintraMax, Quarto is our award-winning plantation, mill or farm management software. But what does Quarto mean for our users? How does Quarto help our clients?
Today, we talk to Mr Nicholas Y, an accountant for GAP Oil Mill Sdn Bhd on how Quarto matters to him, and how it is transforming the business at GAP. 
Before Quarto  
Before using Quarto, we keyed in each transaction manually into a spreadsheet. This was very time consuming as we needed 5-6 months to close our accounts. It also required a lot of manpower. 
Implementation experience
During implementation, the Quarto Team was well-coordinated and communicative. For those already versed with accounting terms, Quarto will be a familiar experience.  
Users keying into our weighbridge, procurement, inventory, and checkroll modules tend to be SPM holders. Therefore, a management system needs to be simple enough for regular, everyday tasks while capable of preventing and detecting errors that might otherwise slip into the final bookkeeping.  
Easy to learn
Anyone can pick up Quarto quickly, even without an accounting background or rudimentary computing knowledge, though having them will help. Quarto's built-in profit & loss statement and balance sheet are already straightforward and in line with our practices that an accountant can easily make sense of them.  
No two businesses are alike. Therefore, I need to present data in a certain way for the decision makers to see the big picture. As an accountant, it is Quarto's ability to filter and extract data according to certain parameters that truly makes it invaluable for my job. 
Process optimisation  
Quarto's key strength is in its flexibility. Once we moved to Quarto, we can now finish our checkroll in under a week. Prior to using Quarto, we'd need two weeks, sometimes more.  
One Quarto, many use
s (and use
rs
)
For our clients, Quarto can represent many different things. As an all-in-one platform, the user base for Quarto is very diverse. Quarto has functions for almost every step of the oil palm planting and milling stage. Estate owners and decision makers rely on month-end reports that mid-level managers submit. 
The mid-level managers in turn depend on data entry staff and field workers to deliver the necessary numbers to crunch. It is in essence, an ecosystem that relies on information sharing to power the effective operational and strategic decisions necessary for success. 
To know more about Quarto, click here.