Are you using the right software for your palm oil plantation?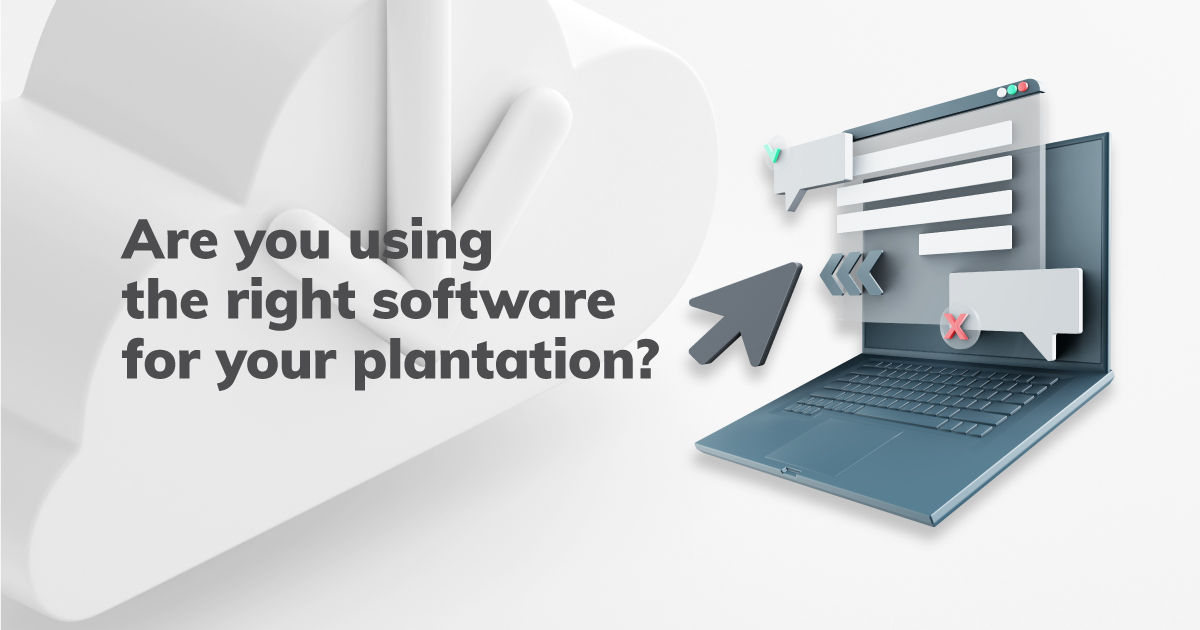 Digitisation accelerated by several years due to the recent pandemic, and many of the technological changes are here to stay. However, aside from the rapid digital development, we should also be asking ourselves, are we harnessing the right technology?
Are you using the right technology for your plantation business?
Utilising the right technology solution can be a game changer for palm oil industry players by providing efficient support for plantation management. Which type of software solution would be more advantageous for your plantation business?
Find out more below in the comparison between on-premises software and the cloud-based Quarto software.
Feature

                                         On-premises software

                                                     Quarto

User login

Various login across different platforms

Seamless, single login

Data view

Requires installation of multiple system to view all the data

Cloud-based with a single view means it does not require installation across multiple system.

Database backup maintenance and support for system update

As an on-premises system, it requires hands-on hardware control and management from dedicated, on-the-ground IT staff. It is the company's responsibility to provide support to ensure the server is functional.

Maintenance and support are included and provided by Quarto as part of the software subscription license. This removes the hassle of maintaining and upgrading system and reduces the responsibility of IT staff.  

Therefore, industry players can save on expenditure cost and better utilise time and resources to focus on the core business.

Dashboard

There is no dashboard available for physical, on-premises software.

Access to near real-time insights with a powerful dashboard to monitor progress and gain near real-time insights and data.

The dashboard have been designed for fast, simple yet accurate visual data.

Login activity

Requires multiple logins across systems and there is no visibility of login activity.

Single login with the ability to monitor current login and any suspicious logins with IP address, date, and time information.

Notifications

There are no notifications available

Users will receive in-system notifications

Deployment

There is large capital expenditure involved when establishing on-site hardware as it requires physical installation with an on-site server. 

Additionally, other requirements such as proper cooling system, wiring and other hardware can add up quickly.

Quarto is built-in cloud, which allows for rapid deployment with fast and easy setup without the risk of operation interruptions.

System downtime

If there is unplanned downtime, it will take much longer to Hardware must be prepared beforehand.

Quarto utilises professional Azure cloud database that enables for it to be restored in a relatively quick manner with minimal data loss if downtime happens.

User management

User credentials are stored in individual database, therefore managing users will require a dedicated staff who continuously update the master data of the software.

A single place to create, update, or deactivate a user across the organisation for various users who has been granted permission.

Scalability

On-premises software are scalable, but with a hefty cost involved. It is bound to physical hardware, therefore, scaling up will require additional equipment. It may require purchase of new servers, cabling, pipeline and more.

On the other hand, natural disasters such as flooding can pose a significant risk to on-premises software.

The cloud-based Quarto software provide greater flexibility. Therefore, you have the agility to scale up or down to cater to business demand.

Adjustment can be made to the subscription when extra storage or processing power is needed.

Audit trail

There is the risk of tampering of audit trail and data modification on the on-premises software. Additionally, it will be difficult to identify who did the tampering, when it was done, and to what extent.

The audit trail offer extends to detailed information. For example, it can provide visibility into what changes were made by which user that is available through backend query. 

Integration

To achieve a seamless transaction,  manual intervention and mindful action is required from users. Multiple system will also need to be installed in order to view top-to-bottom data.  

The cloud-based single platform facilitates data flow with single point of data entry. What users entered will be visible across the organisation with ability to monitor data entry progress. 

Cost 

Aside from software license, the on-premises server maintenance involves other cost such as travelling expenses for IT support to the company's location. Or there will be additional cost of hiring a dedicated IT employee to maintain and support the server. 

Save on expenditure costs and reduce your operating cost significantly as organisations will only need to pay for the software subscription fee. No additional costs required. 
Digital technology that sets you ahead
As technology and digitisation become important enablers in increasing profitability and productivity, it is imperative to thoughtfully decide where and how best to invest in technology for your plantation management.
Quarto's cloud-based software provides the necessary digital solution to assist productivity and help in increasing profitability for palm oil industry players.
Let's discuss how you can transform your plantation business with Quarto by enhancing efficiency and reducing costs which can substantially improve your end-profits.