How Do Drones Work in Oil Palm Plantations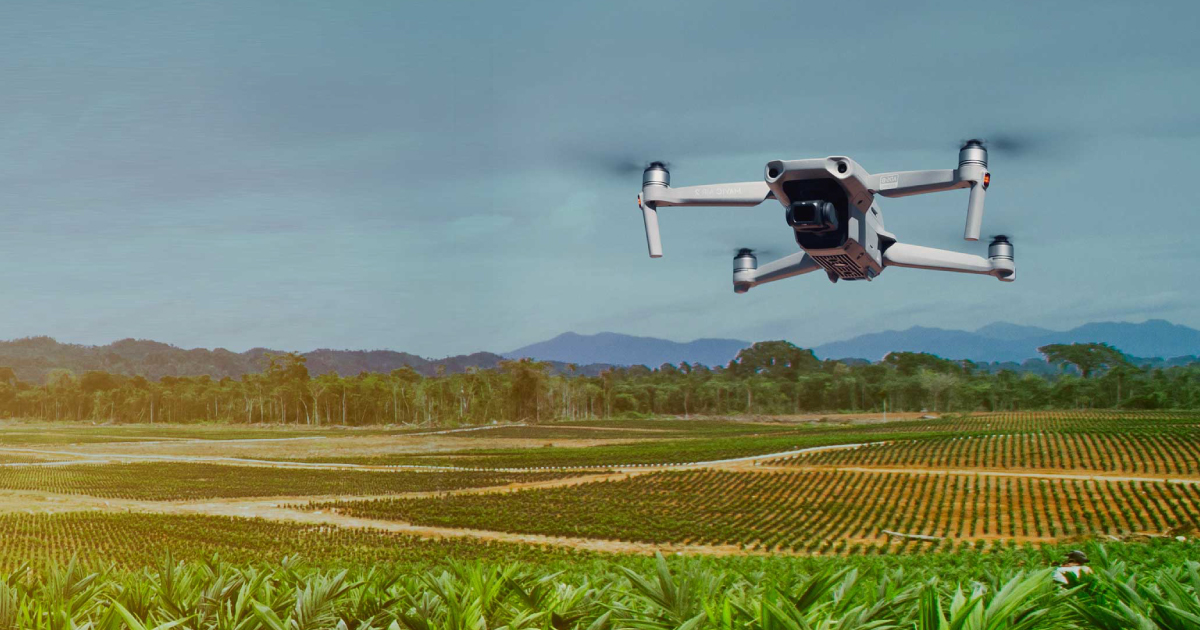 The local oil palm sector is poised to see a major upgrade in terms of drones application, at least in the next three years. 
The claim made by the Minister of Plantation Industries and Commodities, Datuk Zuraida Kamaruddin was also in line with the current trajectory of achieving modernisation and utilising advanced technology in the local agriculture landscape.  
While diligently pushing for modernisation in the palm oil sector, the government has also established the Palm Oil Mechanisation and Automation Research Consortium (MARCOP). A total of RM60 million was also allocated for research and development focusing on drones, robotics, and sensor applications in oil palm operations. 
Although local players are gradually embracing drone technology, much later than their Western counterparts, successful application of drones could tackle issues related to labour shortage and crop monitoring.
With its ability to generate swift overviews and quick insights, drones would surely streamline local oil palm daily business; taking the burden of hard labour off the workers and placing it in the capable wings of the machine. 
Greater Estate Visibilities
The use of drones in gathering vital data for plantations could be down to two factors: speed and accessibility.  
In big plantations that span to thousands of hectares, a mobile alternative would greatly boost visibility and provide better overview of the plantation. When equipped with cameras and sensors, these autopilot aerial systems could reach inaccessible areas and swerve through oncoming obstacles.
The high-quality images captured by the drones would then be turned into detailed 3D maps for managers to analyse.  
With this application of GPS tracking and fine imagery, plantation managers would have a detailed understanding of what is happening in the estates. As a result, they would be able to swiftly address arising issues around their plantations such as plant health concerns, irrigation problems, and eliminating trespassers or squatters. 
Smarter Block-by-Block Planning
Optimising efficiency and monitoring plantations are pivotal for all plantation managers. Planning daily operations is oftentimes demanding, especially when getting insights is arduous and time consuming.
However, implementation of drone technology along with its relevant accessories would provide great benefit for long-term planning. Integrating appropriate sensors, cameras, and plantation management software like Quarto with drone applications would lead to productivity and efficiency.
Here are some examples of the most integral drone applications for smarter plantation planning: 
Irrigation – Thermal sensors could identify parts of a field that received too much or too little water.

Tree Counting and Mapping – Capture images of various part of fields from different angles using RGB cameras. Used with integrated 3D simulation software to design an identical model of the whole plantation. 

Soil Analysis – Detecting irregularities in a field, drainage patterns, and terrain elevations in planning for seed planting patterns.

Precise Terracing and Topography – Identify terrains and accurately calculate land elevation, estimated heights and volume of trees for comprehensive planning.
All these insights combined will help in the plantation's decision-making process, enabling managers to make timely informed decisions based on instantaneous high-level coverage of the environmental data captured by the drones. As a result, the plantation can expect better resource management and elevated yield outcomes.
Proactive Decisions
A plantation's performance also depends on the workers' ability to combat arising issues with swift response and creative solutions. 
Preventing damaged crops due to weather conditions, bacterial diseases and pest problems would need proactive decision-making. A delayed response could mean loss of yield and higher expenses on resources.
Continuous health assessment with drones, equipped with RGB cameras and Near Infrared Light could address this issue. This aerial scanning ability would produce multispectral images that can track changes in plants and indicate their health.
Plus, agriculture players also extensively use drones to spray fertilizers and pesticides. They would provide a safer, faster, and cost-effective alternative to the traditional methods. 
With the data captured by the drones, workers could perform targeted treatment instead of mass spraying; an advantage that is sustainable over the long term.
Are Drones Enough for Smarter Plantations?
It would be a loss if we do not take advantage of the highly beneficial functionalities of drones. However, the application of drones itself is limited as more integrations are available and needed to make the most out of its functions. An integrated software like Quarto would bring added values to applications of drones in digital agriculture and smart farming. 
If you are interested to learn more on how drone applications can be enhanced in oil palm plantations, let's have a chat!