Palm oil players can benefit more from highest CPO prices by investing in automation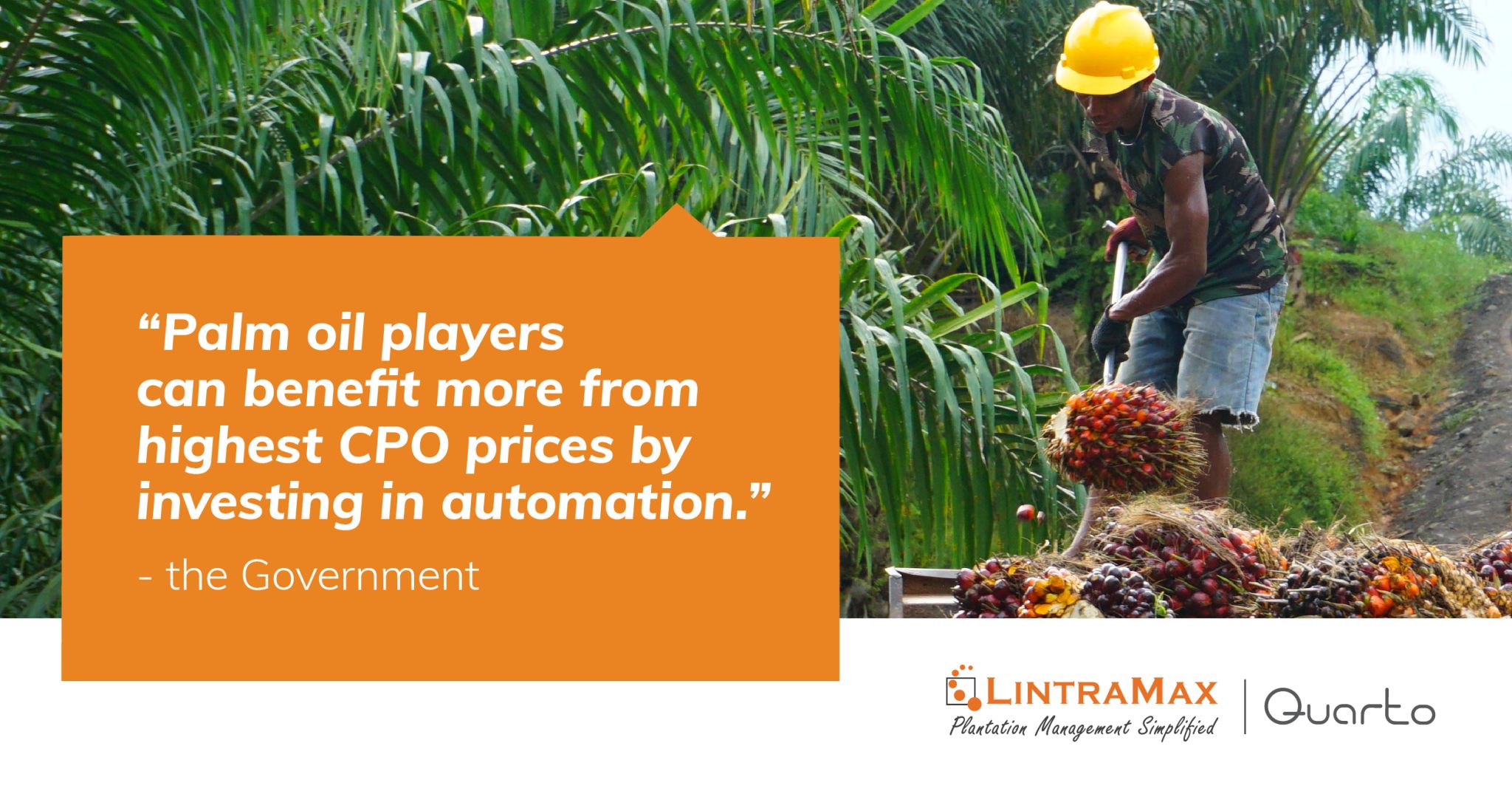 Even as palm oil prices soared to their highest in 10 years the government is investing into the future by increasing  the CPO cess levy by RM2 per tonne to fund automation and mechanising. Nine associations have lauded this move as in line with bringing Malaysia's agriculture sector to Industry 4.0 readiness.
Automating operations from end to end
Improved industry automation and mechanisation are essential, as Malaysia's 2021 palm oil exports are expected to reach RM75 billion, a dramatic increase from RM63.73 billion in 2019. A management system such as Quarto Estate or Quarto Mill functions as the central hub to automate processes.
Estates and mills can enjoy simplified digital data recording and streamlined end-to-end operations. At the same time, managers benefit from timely, less errors in accounting and finance, automated checkroll  calculations, and detailed, data-supported operational expenditure and production reporting. Where monthly checkroll can take two weeks or longer, Quarto can cut the duration in half. 
Turning data into intelligence
Meanwhile, the app-based Quarto Connect is a seamless way to track work progress and submit work inspection and harvesting results directly to the head office for up-to-date reporting.  
This data is accessible to key decision makers anytime, anywhere on their smartphone or presented in a helpful map view to identify causes of low yields in a particular block and develop informed action plans. 
Harnessing
 tomorrow's technology today
Automation brings the additional benefit of improving operational visibility. Crop harvests can automatically be tagged with GPS coordinates to ensure easy and accurate evacuations while maintaining traceability. As harvests make their way downstream for processing, Quarto reflects every sales delivery and contract fulfillment, and makes adjustments to stock balance automatically.  
Quarto's ability to support for remote sensors facilitates end-to-end estate and mill monitoring. At the same time, it automates manual labour and ensures optimal task delegation for workers. 
With over 18 years of oil palm industry experience managing over 1 million hectares of plantations, let Quarto be your trusted partner to help automate your agribusiness. Contact us now for a free appointment.