Successful plantation decisions driven by data analytics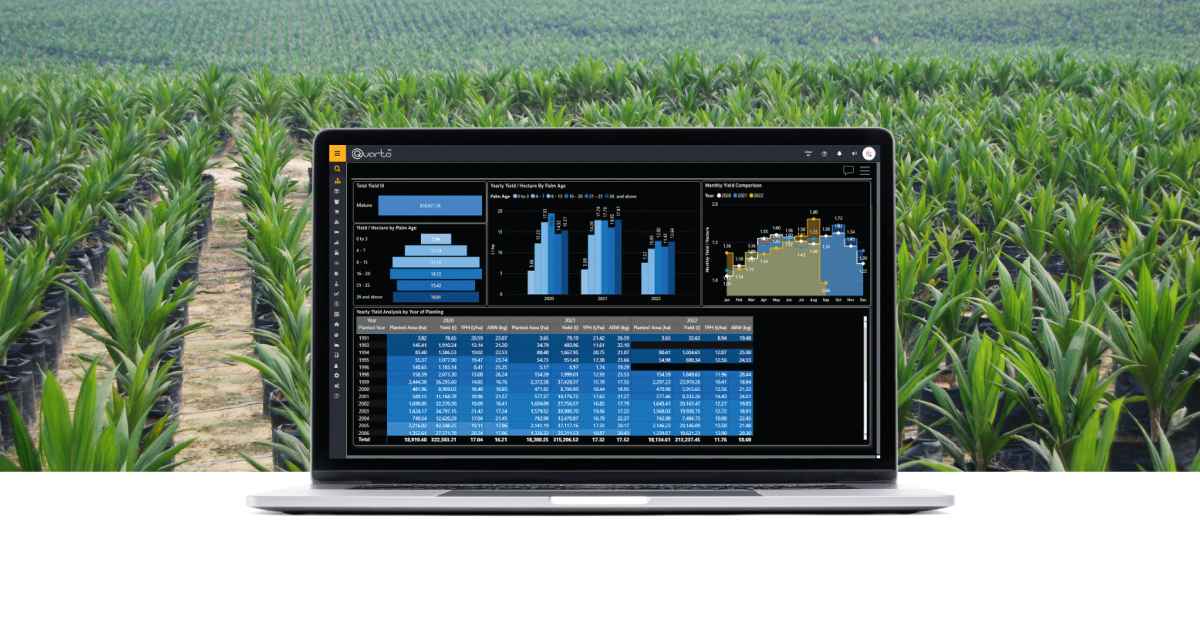 Quarto empowers plantation managers with simplified decision-making through Analytics. So, how does Analytics benefit managers at plantation estates and mills? Let's find out.
With the constant risk of high labour costs and increasing agriculture prices, Analytics helps managers make informed decisions. As a result, they get to stay on top of their business by managing costs of operations and optimising expenditure with more visibility and insight.
As a manager, you get to track operational, financial, and key performance metrics wherever you are at any time. Analytics enhances collaborative decision-making between managers at multiple offices, be it at the estate, mill, or head office. With interactive dashboard visuals, you can monitor trends, spot signals, and intercept issues in near real-time and resolve them as quickly as they emerge.
Is Data the new "soil"?
Your plantation data becomes "fertile" when transformed with Analytics. Ultimately, the pay-off is that estate and mill managers get better visibility, control, and intelligence on cost management and production performance.
Visualisation enables managers to derive financial insights based on the calendar year or monthly periods. With simple clicks, users can go right down to a specific data point to view information on a more detailed level. The ability to drill through an estate allows users to monitor daily harvesting patterns. This helps in making estate-specific harvesting strategies to maximise yield. Apart from that, a vehicle drill-through provides details on expenditure breakdown and fuel consumption, for example.
If you can't measure it, you can't improve it
With Analytics, your estate and mill KPIs are consolidated into dashboards that are both measurable and comparable. Simply put, all the data included in the Analytics dashboards can be quantified to establish patterns and trends.
At a higher level, users can compare performances between estates or between mills. At a more detailed level, users can compare between past and present dates. This include same period last year (SPLY) comparisons as well as comparison between data points.
Data point comparison is, for example, comparing the production output of different estate blocks. In such case, the estate blocks are the data points. Similarly, when comparing two or more vehicle expenditures, the vehicles are the data points used for comparison.
With its focus set on KPIs, historical analysis, budgeting, and forecasting, Analytics takes the pain out of static reporting for a more dynamic business intelligence reporting. Analytics present your plantation data as interactive graphs and charts. These visuals provide a clearer picture of your yield performance, crop harvesting, production levels, expenditure, and many other KPIs you wish to measure.
Data makes your briefcase heavy; insights make you rich
Analytics transforms your plantation data into a business asset with insightful perspectives for your estates and mills. With Analytics, estate and mill managers no longer need to tediously look for emerging patterns by searching from multiple reports. Also, they do not need to segment numerous data banks in order to track relevant business metrics.
The dashboards function as a single point of reference to see past and current data for insightful decision-making. The data could entail expenditure, crop productivity, and overall performance levels. If these levels reach a less-than-ideal rate, insights from Analytics enable managers to determine business impact and to strategise action plans.
For example, say, maintenance cost for a despatch lorry has been higher than usual the past few month. With historical tracking of the said vehicle, managers can determine the viability of purchasing a new lorry versus maintaining the current one. Or, when monitoring actual versus budget yield performance, managers can quickly identify the cause of a downward trend and then take immediate action to curb losses in crop productivity.
If you want to change the fruits, you will first have to change the roots
The Quarto plantation management platform provides clear and actionable insights for your agribusiness growth, and Analytics is just what you need to get that extra mileage for your plantation business strategic decision-making.
Combined with maps, in-the-field app, automated financial processing, and Analytics, the integrated Quarto platform supports the unique needs of your plantation business with automation. You not only gain improved visibility into operations, but get to make smarter decisions and enjoy higher returns.
Learn how you can increase your plantation's profitability with Quarto. Contact us today!