The power of SaaS in Palm Oil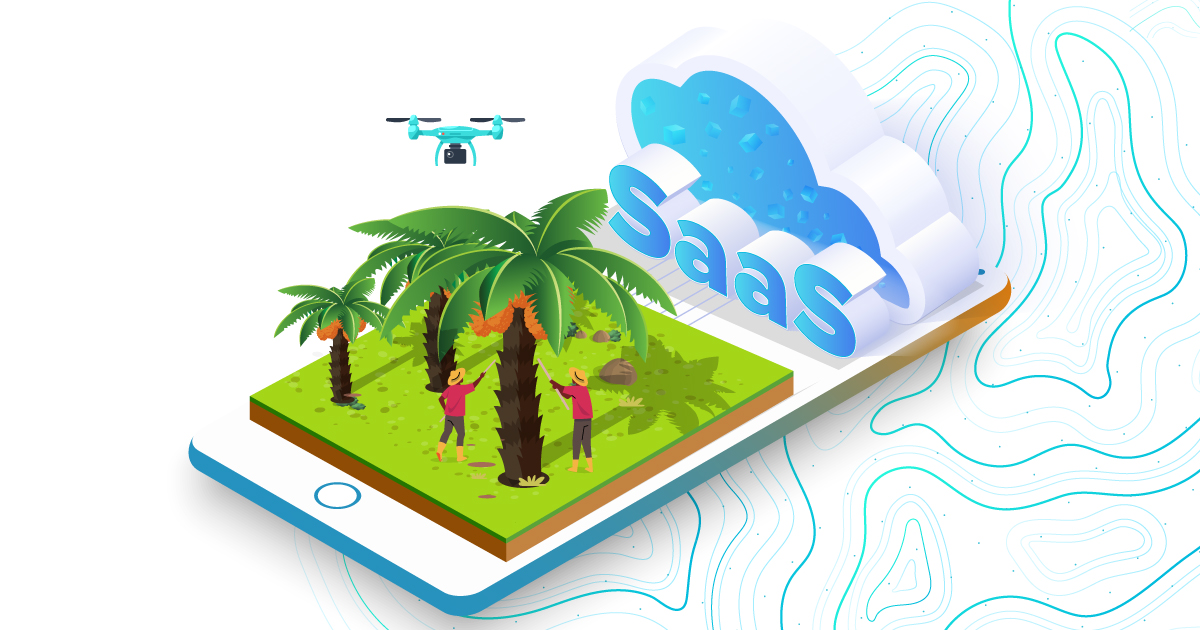 Industries such as agriculture, healthcare and pharmaceuticals, real estate, construction, and non-profit organisations are seeing a rise in technology adoption. Specifically, these industries have leveraged cloud computing to further drive their communications and collaboration to a greater degree.
The COVID-19 pandemic has also further accelerated global digital transformation as reliance on technology surged to support business conditions amidst the challenging times. The increasing demand shaped by the pandemic has then resulted in a growing demand for cloud computing, with the market expected to grow substantially. The global software-as-a-service (SaaS) market size was $130.69 billion in 2021 and is expected to grow to $716.52 billion in 2028.
What is Cloud Computing?
Cloud computing is a technology that deliver services such as storage, software, databases and more over the internet. Software-as-a-service (SaaS) deliver applications over the Internet as a service. Removing the need to install and maintain a software, users simply access it via the Internet. This reduces complex software and hardware management.
It is likely that you have been using cloud computing even if you did not realize it. For example, if you use an online service for email, to listen to music or store pictures and files, it is likely made possible by cloud computing technology.
Since its inception, various types of clouds have emerged to provide solution for consumer and organization's needs. Public clouds are owned and operated by third-party cloud service providers. While a private cloud delivers cloud computing that is exclusively used by an organization. Then there are hybrid clouds which combine public and private clouds that will allow data and applications between the two types of clouds.

There are then three main categories of cloud computing services which are Infrastructure-as-a-Service (IaaS), Platform-as-a-Service (PaaS) and Software-as-a-Service (SaaS).  Both IaaS and PaaS are designed to allow for customisation and enable developers to build. While SaaS, which is the most popular type of cloud computing offer a user with access to cloud-based software that is readily built. User will access SaaS application on a web browser by using their mobile phones, PC or even a tablet.
As cloud adoption is accelerated, businesses can greatly benefit from cloud services, from SMEs to large enterprises. Additionally, there are numerous advantages of integrating cloud technology in the oil palm industry.
Advantages of SaaS in Oil Palm Industry
Among the challenges faced in palm oil plantation management are poor crop harvesting quality and crop losses. Additionally, labour shortage is a major challenge in Malaysia's palm oil industry, and looks unlikely to be resolved this year.  The reduced manpower has also resulted in the drop of palm oil production.
All these challenges can be better managed with the implementation of SaaS in palm oil management.  SaaS-based agritech is a solution that can help industry players keep up with the ever-increasing demand for agriculture products. It is also crucial for palm oil producers to adopt technologies that can help them do more even with reduced workers.
When utilised in oil palm, SaaS delivers the ability to simplify plantation management. This is a crucial element as efficiency in plantation management and data management is important. It delivers the ability to access field data quickly, enabling plantation managers to focus on areas that are more attuned to generate profits or identify areas that require additional attention.
Cloud computing offers many advantages to palm oil plantation management such as speed and the significantly lower cost. The power of SaaS cloud-based technology is the fast deployment, easy integration, and implementation. This reduces cost as plantation owners are not concerned with issues such as maintenance and upgrading as that will be taken care of by the cloud service providers. In addition, SaaS are built upon iteration of developments as technologies are ever evolving.
With Quarto, users will benefit from continuous updates with improved and new features added periodically. An example of a notable feature in Quarto is crop evacuation. It can help improve crop evacuation efficiency to ensure crop freshness, help reduce crop backlogs and losses.
Digitalisation of these processes will provide field supervisors with the tools and ability to input crop evacuation. In turn, this improves traceability and delivers visibility for plantation managers. This can then reduce impacts of the various challenges in palm oil plantation.
Additionally, key decision makers in plantation management have access real time proper overview. This allow for better focus on things that would make a bigger impact such as areas that has not been harvested. Decision makers are also empowered to spot problematic patterns or potential problems earlier. This eliminates the constraints of addressing crucial matters after specific meetings or reporting periods.
The Way Forward for Oil Palm
Looking ahead, it would be imperative for oil palm industry players to adopt the right technological advancements to build strategic resilience and remain competitive.  The pandemic was a critical test for industry player's agility and adaptability.
"In keeping with the spirit and aspirations of Malaysia's National Transformation 2050 (TN5), disruptive technologies will be the driver of innovations across all sectors, including the palm oil sector." – Tan Sri Datuk Yusof Basiron, Executive Director, Council of Palm Oil Producing-Countries (CPOCP)
Evidently, strategic utilisation of the right technology will help to address the challenging situations in palm oil industry. Furthermore, efficient cultivation combined with a continuous innovation mindset will be key towards ensuring profitability and the long-term sustainability for palm oil producers.
Don't be left behind in the warp-speed digital transformation. Learn how Quarto's all-in-one cloud-computing infrastructure can optimise and enhance productivity as well as efficiency of your plantation management.